Multidrug Resistant Bacteria: Current Trends and Challenges
Lead Guest Editor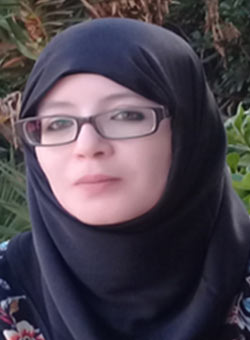 Raoudha Dziri
Department of Biology, Laboratory of Microorganisms and Active Biomolecules, Faculty of Sciences of Tunis , University of Tunis El Manar,  Tunis, Tunisia
Guest Editors
Naouel Klibi


Department of Biology, Laboratory of Microorganisms and Active Biomolecules, Faculty of Sciences of Tunis , University of Tunis El Manar, Tunis, Tunisia

Carmen Torres


Department of Food and Agriculture, Laboratory of Biochemistry and Molecular Biology , University of La Rioja, Logrono, Spain

Olfa Dziri


Department of Biology, Laboratory of Microorganisms and Active Biomolecules, Faculty of Sciences of Tunis , University of Tunis El Manar, Tunis, Tunisia

Carla Andrea Alonso


Department of Food and Agriculture, Laboratory of Biochemistry and Molecular Biology , University of La Rioja, Logrono, Spain

Carmen Lozano


Department of Molecular Microbiology, Center of Biomedical investigation de la Rioja, Logrono, Spain

Hadda-Imen Ouzari


Department of Biology, Laboratory of Microorganisms and Active Biomolecules, Faculty of Sciences of Tunis , University of Tunis El Manar, Tunis, Tunisia

Dr. Md. Abdullah Yusuf


Department of Microbiology, National Institute of Neurosciences & Hospital, Dhaka, Bangladesh

Jaykant Vora


Department of Life Science, Gujarat University, Ahmedabad, Gujarat, India

Azza El-Demerdash


Animal Health Research Institute, Zagazig, El sharkia, Egypt
Introduction
This special issue focused on antimicrobial drug resistance, especially novelties concerning enzymes and genes involved nowadays in antibiotic resistance among bacteria of humans, animals, environmental (rivers, wastewaters, Lagoons, Dams, soils) and food origin (vegetables, meat, dairy products, seafood, fish...). This issue addresses also challenge in new active molecules and drugs against multi-resistant bacteria in particular those which are resistant to the last resort antibiotics such as Vancomycin Resistant Enterococci (VRE), Methicillin Resistant Staphylococcus aureus (SARM), Carbapenem resistant Enterobacteriaceae, Acinetobacter baumannii, Pseudomonas aeruginosa and others. It is also interestedin diagnostic methods and new technologies used in the screening and the identification of resistance mechanisms in bacterial isolates (Antimicrobial susceptibility testing, rapid diagnostic tests, Automation diagnostic ...). The assembly of all these informations on antibiotic resistance, unbeatable problem worldwide, could be the first point to invent new therapeutic approaches and strategies. This issue welcomes original articles, case report studies, reviews of literature and short notes.
Aims and Scope:
Epidemiology of resistant bacteria
Molecular research of resistance mechanisms
New diagnostic methods of antimicrobial resistance
Drug design
New therapeutic approaches
Pathogenicity, virulence and antibiotic resistance
Guidelines for Submission
Please download the template to format your manuscript.